Legacy Member: Jennifer Dixon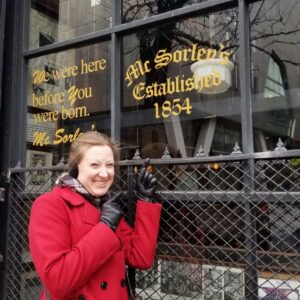 For this Legacy Member highlight, Jennifer Dixon, Division Director of the Historic Preservation Division, Georgia Department of Community Affairs, shares why she is a member of the Georgia Trust:
"Preserving our history is so important to understanding ourselves – no person, family, or community lives in isolation, rather we build upon what we have inherited.  It's not only a passion of mine, it's become a fulfilling career!  When I first realized it was what I wanted to do for a living, I knew I needed to be involved with the Georgia Trust – from giving Saturday tours and decorating Rhodes Hall for Christmas, to running in Halloween 5ks and attending Inherit Georgia tours, to now rambling and being on the board.  The Georgia Trust is such an important organization to guide not only individuals and communities, but is also a great partner and resource for state agencies and beyond!"
Legacy Members are Georgia Trust Members who have supported the Trust for 10+ years. 
See more about our Legacy Members and the history of the Georgia Trust on our 50th Anniversary blog Celebrating 50.
Support the work of the Georgia Trust by Becoming a Member today!