Preservation Success: Amis-Hunter-Jarrell House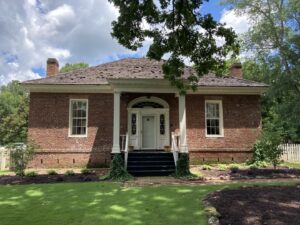 The Amis-Hunter-Jarrell House, located in Senoia, was constructed in the 1830s by William Tidwell as a Federal-style Georgian cottage before selling the property in 1840. In 1844, it was purchased by Joseph Amis, who lived there until 1890 when he deeded the farm to Joseph Haynes and his wife, Susan. The property changed owners several times before R.E. and Leonard Hunter purchased it in 1947 for their parents. In 1992, the home went through the Georgia Trust's Revolving Fund program. It was purchased by Frank and Marion Jarrell, who completed a full rehabilitation of the home. Significant for its unique architecture, the Amis-Hunter-Jarrell House was listed on the National Register of Historic Places in 1997.
The property continues to be protected by a conservation easement held by the Trust, and subsequent owners have ensured the home remains beautifully maintained. Check out the video below about the Georgia Trust's Revolving Fund to see the current owners share more about the property and the important programs that allow the Georgia Trust to protect and save significant properties in Georgia.
Support the work of the Georgia Trust and programs like the Revolving Fund by Becoming a Member today!
See more about the history of the Georgia Trust on our 50th Anniversary blog Celebrating 50.