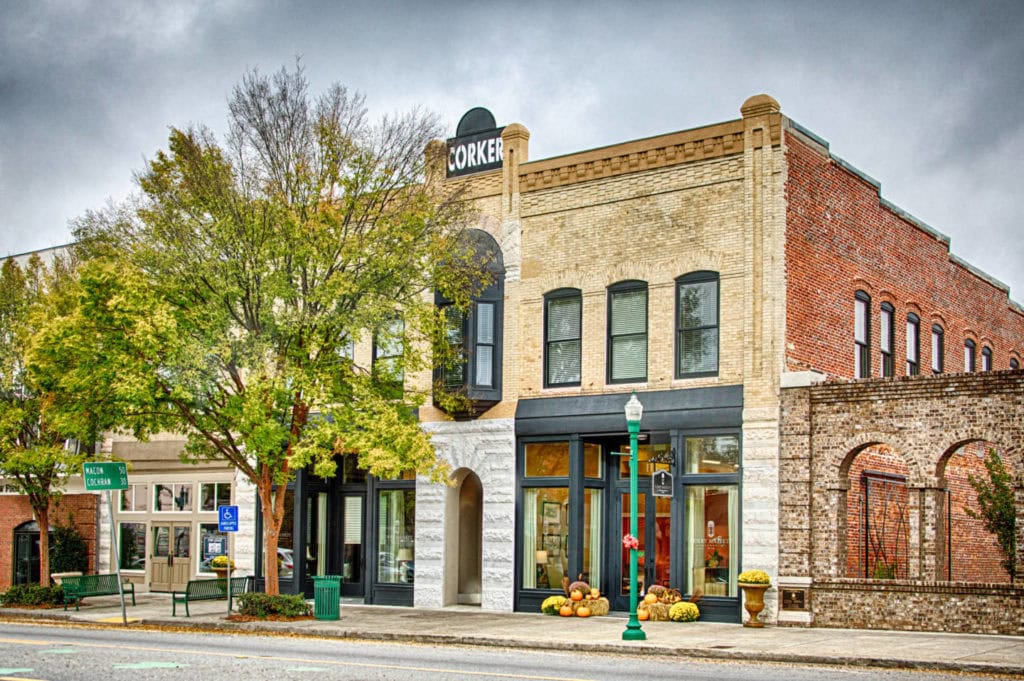 Dublin - Laurens County
Built by Frank Corker, the Corker building opened in 1898. Located within the Dublin Commercial Historic District, it was originally home to Gilbert Hardware Company before eventually becoming the J.C. Penney's department store. In 1965 J.C. Penney covered the historic façade with a curtain wall and removed most of the storefront. In later years, the building was further modernized but fell in disrepair. As downtown Dublin had begun to transform over the last decade, community leadership recognized the need for significant public investment in the area surrounding the Corker building to ensure its revitalization.  The right partners were brought to the table and in 2016, a rehabilitation project was undertaken. The curtain wall was carefully removed and all of the missing historic features were replaced based on documented physical and pictorial evidence. Windows that were boarded up were opened and replicated to match the original historic size and type. A non-contributing rear addition was removed to re-establish the historic rear entrance. The result was an adaptive reuse that saved the historic storefront and provided office space for Curry Maffett Insurance Company, the new owners, on the ground level and five new residential spaces on the second floor. Fostering new hope and appreciation for old buildings, the rehabilitation of the Corker Building is deeply intertwined with the revitalization of Dublin's commercial historic district and is a wonderful product of true private-public partnership.
The building also received an award for Excellence in Rehabilitation.
---
The Chairman's Award is presented at the sole discretion of the Georgia Trust Chairman of the Board of Trustees to recognize extraordinary efforts contributing to the preservation of Georgia's historic resources.