Legacy Member: Clason Kyle
2023 marks the 50th anniversary of the Georgia Trust for Historic Preservation, and to celebrate, we'll be featuring a few of our legacy members throughout the year, starting with Clason Kyle, one of our founding Trustees.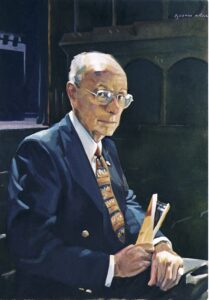 Clason Kyle of Columbus, Georgia served as a founding Trustee of the Georgia Trust for Historic Preservation from 1973-1975 and again from 1983-1989. He is the 1993 recipient of the Mary Gregory Jewett Award, which is the Georgia Trust's top honor given to an individual, and was one of our honorees at the 2011 Preservation Gala. He is also a 1982 recipient of the Trust's award for Outstanding Achievement in the field of preservation for his contributions to Columbus' Springer Opera House, The Folly, and Uptown Columbus.
From his work at the Columbus Ledger-Enquirer newspaper, to publishing two books ("Images: A Pictorial History of Columbus, Georgia" and "In Order of Appearance"), Mr. Kyle has dedicated himself to educating the Columbus community about its history. In addition to the Georgia Trust, he has been active in many cultural organizations, such as Historic Columbus, the Springer Opera House, Port Columbus, The League of Historic American Theaters, The Historic House Association, The Victorian Society in America, and The Historic Chattahoochee Commission. Mr. Kyle has also received the Sarah Turner Butler Heritage Award from Historic Columbus, was named Admiral by Port Columbus, and has been honored by the Georgia Association of Museums and Galleries.
Painting of Mr. Kyle is by Booth Malone and now hangs in the Springer Opera House, Columbus, GA.
More images: