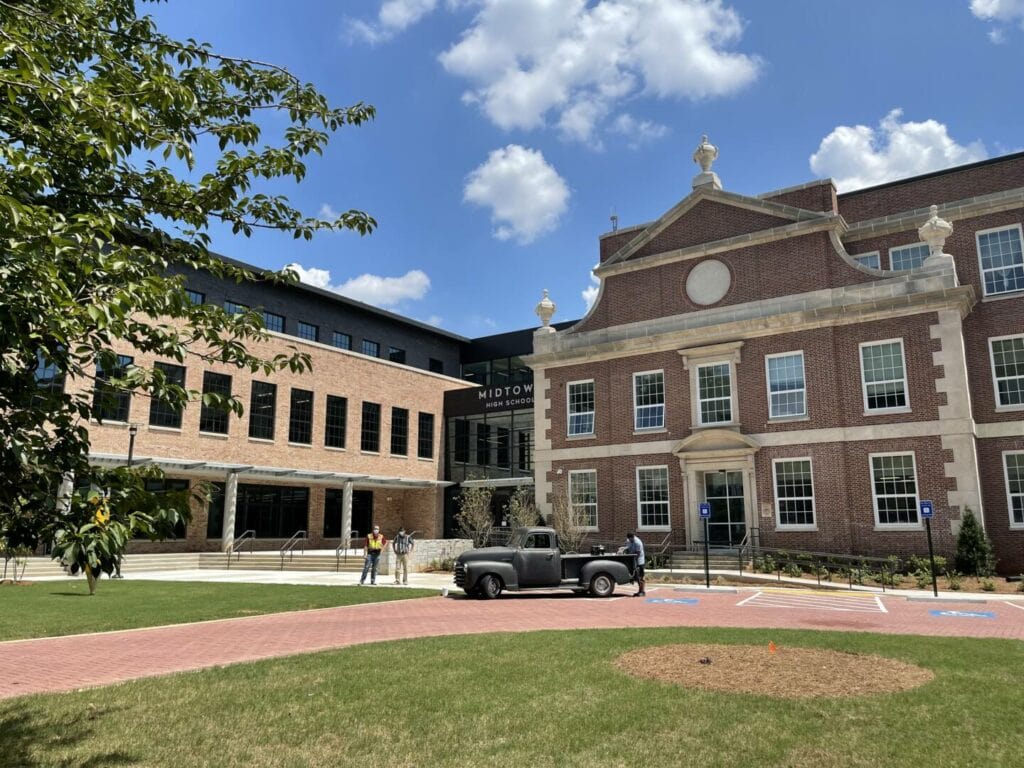 Atlanta - Fulton County
The Midtown High School campus in Atlanta consists of seven buildings constructed between 1922 and 2021, the earliest of which are attributed to architect Philip T. Shutze and reflect his classical style. As the campus grew,  other notable architectural firms designed additional buildings and stadiums. Most recently, Atlanta Public Schools undertook a SPLOST funded project to restore several of the historic buildings and address the need for more classrooms with a sensitively designed addition. Exterior restoration of the 1924 classroom building and 1938 gym included careful cleaning and repointing of brick, limestone, terra cotta, and cast stone. Decorative urns were fully restored, with missing portions replicated, and the roof was replaced. The damaged curtain walls and failing windows in the 1970 performance gym were replaced with more durable materials to preserve the building's appearance while improving its efficiency. The new addition was designed to be secondary and complementary to the historic buildings and is compatible in scale, proportion, and materials. Atlanta Public Schools has demonstrated its stewardship of the property by giving new life to the century-old campus, ensuring its longevity through careful upkeep and thoughtful expansion.
---
Excellence in Stewardship Awards recognize those who ensure the preservation of historic properties through long-term care and maintenance, stabilization, protection or continuous family ownership.