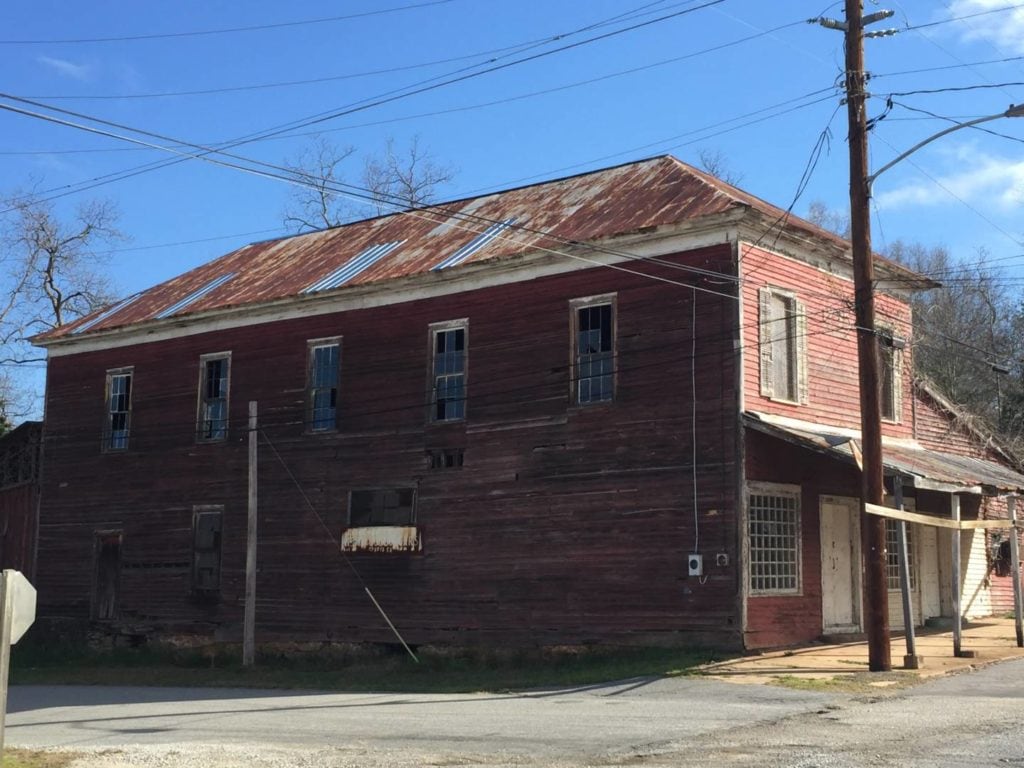 Sparta - Hancock County
505 Hamilton Street, Sparta, GA 31087
$17,500
This wood frame commercial building dates to the late nineteenth century and served as Sparta's Feed and Seed. The main building is two-stories with a hipped roof of corrugated metal. A later one-story addition was built on the east side of the building, and a metal pent roof serves as a cover for the building's front entrance. The historic Sparta Feed and Seed building is located one block north of Broad Street, Sparta's main commercial street.
The historic Sparta Feed and Seed will need substantial rehabilitation. The building will require repairs to its windows and wood siding. Invasive vegetation will need to be removed and the exterior painted. The building's foundation and mechanical systems may also require rehabilitation and updating. The interior features large open spaces on the first and second floors, but will require significant cleaning and restoration. The Georgia Trust has recently overseen a repair of the metal roof.
About Sparta
Incorporated in 1805, Sparta is the oldest town west of the Ogeechee River in Georgia. It was a prominent and wealthy county seat during the 19th Century, and much of the significant architecture remains today. Sparta is approximately 30 minutes northeast of Milledgeville, and 20 minutes south of I-20. The Georgia Trust has made a significant investment in Sparta, helping to attract motivated property owners who are dedicated to preservation.
About The Georgia Trust Revolving Fund Program
The Georgia Trust is a nonprofit statewide preservation organization. The Revolving Fund Program was established to provide effective alternatives to demolition or neglect of architecturally and historically significant properties by promoting their rehabilitation and monitoring their preservation in perpetuity. All properties sold through this program have conservation easements in place to ensure the historic integrity of the property is retained.
Additionally, buyers are required to sign a Rehabilitation Agreement and all work done to the property must abide by the Secretary of the Interior's Standards for Rehabilitation. Copies of these documents will be provided by The Georgia Trust for review.
Contact Info
Dennis Lovello, Historic Properties Coordinator
t: 404-885-7819
contact via email