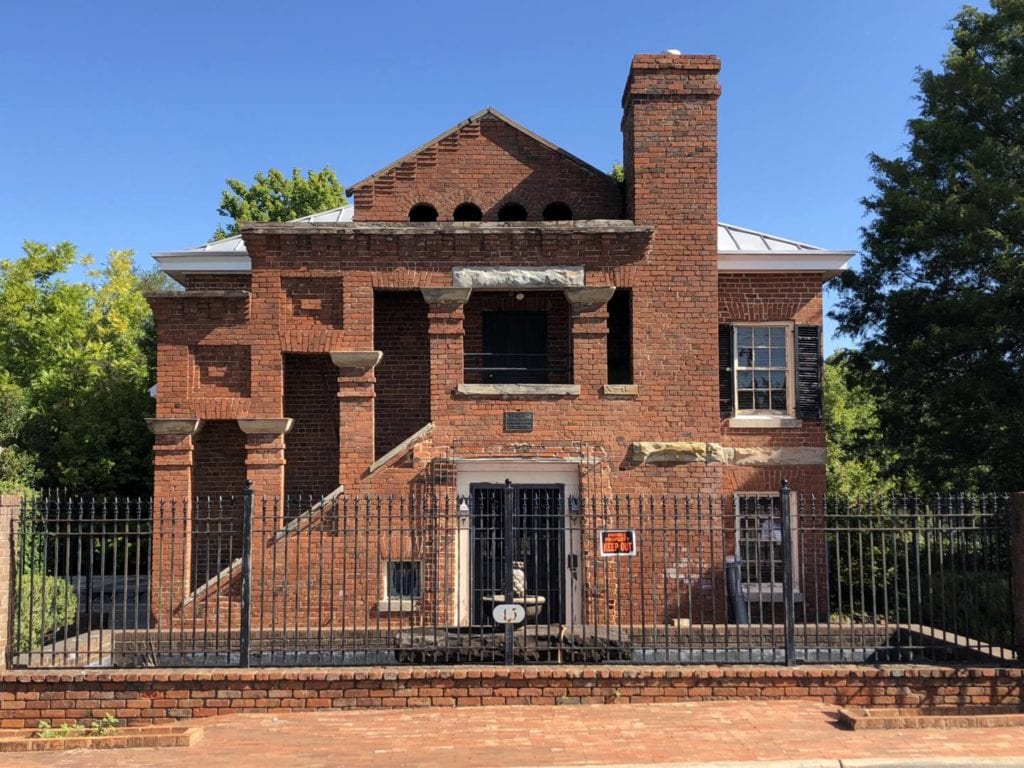 Washington - Wilkes County
103 Court Street, Washington, GA 30673
$60,000
Designed in the Romanesque Revival style, the Old Jail is a two-story building that was constructed in 1891 by the McDonald Brothers Jail Building Company of Louisville, Kentucky. Located only 40 miles from Athens and 50 miles from Augusta, the building encompasses approximately 9,718 square feet (estimated calculation from Wilkes County Tax Assessors Office) and sits on .22 acres. The exterior design once reflected the strength of the building which can be seen in the square brick pillars, the shadow-box plaque and rough stone banding. Housing inmates for nearly twenty years, the Old Jail was abandoned and sat vacant for several years. There were originally eight jail cells—four on each floor. They have since been removed, and the interior is open space. At one time, the jail was transformed into various types of living accommodations including apartments and town homes. The building is currently unoccupied. The roof has been replaced and appears to be in fair condition. There was a modern rear addition that sustained major damage from a fire. The exterior will require advanced brick masonry work on all facades of the building. The landscape and grounds around property will also require substantial work.
The building is on the National Register of Historic Places and may be eligible for state and federal historic tax incentives.
About Washington
Located in Wilkes County, Washington is just over 100 miles east of Atlanta, between Athens and Augusta. It has a population of 4,000 residents. In 1780, Washington was incorporated and became first chartered town named for George Washington in the United States, but also the first city chartered under the new State of Georgia. History was made in the area during the American Revolution at the Battle of Kettle Creek, fought in Wilkes County on February 14, 1779. This battle was responsible for driving the British out of northeast Georgia. Downtown Washington's square features small-town atmosphere with remarkable historic architecture, while nature lovers will enjoy the Broad River Water Trail that flows through the area.
About The Georgia Trust
The Georgia Trust is a nonprofit statewide preservation organization. The Revolving Fund program was established to provide effective alternatives to demolition or neglect of architecturally and historically significant properties by promoting their rehabilitation and monitoring their preservation in perpetuity. All properties sold through this program have conservation easements in place to ensure the historic integrity of the property is retained. Additionally, buyers are required to sign a Rehabilitation Agreement and all work done to the property must abide by the Secretary of the Interior's Standards for Rehabilitation. Copies of these documents will be provided by The Georgia Trust for review.
Contact Info
Dennis Lovello, Historic Properties Coordinator
t: 404-885-7819
contact via email