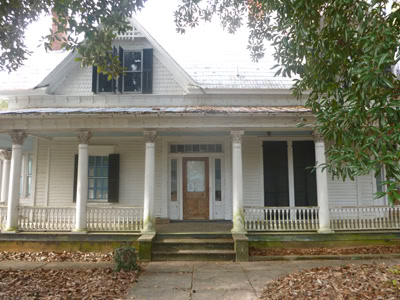 Crawford - Oglethorpe County
215 North Woodlawn Drive, Crawford, GA 30630
$175,000
The Maxwell-Stokely House was originally constructed in the 1850s as a Plantation Plain house with a central hall plan. Purchased by the Maxwell family in 1879, the house underwent a major addition in 1895. This addition added square footage, a grand interior staircase, and the Queen Anne styling that remains today. The house features elaborate shingled dormers, gabled ends, and a corner tower; 6 bedrooms, 2.5 baths, two parlors, large central hall on the first floor, a dining room, and an unfinished kitchen. The interior includes many Victorian details, including 10 intact fireplace mantels and intricate spindle balusters.
The house is in good condition but requires completion of a previous rehabilitation. The kitchen and upstairs bathroom are unfinished. Major upgrades that have been completed include HVAC and ductwork, plumbing, and electrical systems. The house needs new paint on the exterior and interior. The exterior will also require some repair where rot and deterioration have occurred, and the roof should be inspected for potential leaks.
About Crawford
Crawford is located in Oglethorpe County, about 13 miles southwest of Athens on US 78. Its population is approximately 800. The town was located along the Athens branch of the Georgia Railroad, which began operation in 1841. The historic railroad depot, used as a major storage and shipping center by Confederate troops during the Civil War, was recently rehabilitated into a community center. Oglethorpe County, established in 1793, is one of the oldest settled areas in Northeast Georgia. It includes three National Register Historic Districts, a significant number of historic buildings, and two unique covered bridges.
About The Georgia Trust Revolving Fund Program
The Georgia Trust is a nonprofit statewide preservation organization. The Revolving Fund Program was established to provide effective alternatives to demolition or neglect of architecturally and historically significant properties by promoting their rehabilitation and monitoring their preservation in perpetuity. All properties sold through this program have conservation easements in place to ensure the historic integrity of the property is retained.
Additionally, buyers are required to sign a Rehabilitation Agreement and all work done to the property must abide by the Secretary of the Interior's Standards for Rehabilitation. Copies of these documents will be provided by The Georgia Trust for review.
Contact Info
Ben Sutton, Historic Properties Coordinator
t: 404-885-7819
contact via email