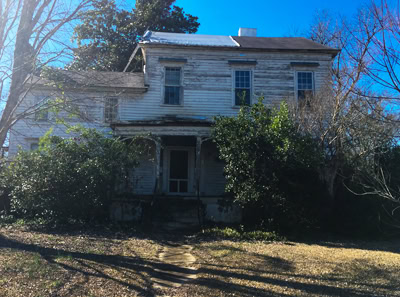 Sparta - Hancock County
148 Maiden Lane, Sparta, GA 31087
$75,000.00
A one-of-a-kind historic home located just off the courthouse square in Sparta, the Haynes-Martin House dates to the 1820s, with further construction likely in the 1840s. The unique features of each era of construction can be seen just by walking from one room to the next. The earlier portion features shorter, wood paneled ceilings, wide plank wainscoting and smaller nine-over-six original windows. The later portion features the architectural details typical of the Greek Revival style: grand central hall and stair, high ceilings and highly decorative moldings. The front entry features a delicate front porch with a remarkable fan light over the front door. An early dependency has been enclosed with the house at the rear.
The Haynes-Martin House requires significant rehabilitation but appears to be structurally sound. There is evidence of water intrusion and damage throughout the house, but the plaster walls and architectural elements are generally intact. Roofing repair (or replacement), exterior painting and window repair are needed. One of the downstairs rooms has been converted to a modern kitchen but requires updates. The house is in the Sparta Historic District, listed in the National Register, and may be eligible for federal and state Rehabilitation Tax Credits.
About Sparta
Incorporated in 1805, Sparta is the oldest town west of the Ogeechee River in Georgia. It was a prominent and wealthy county seat during the 19th Century, and much of the significant architecture remains today. Sparta is approximately 30 minutes northeast of Milledgeville, and 20 minutes south of I-20. The Georgia Trust has made a significant investment in Sparta, helping to attract motivated property owners who are dedicated to preservation.
About The Georgia Trust Revolving Fund Program
The Georgia Trust is a nonprofit statewide preservation organization. The Revolving Fund Program was established to provide effective alternatives to demolition or neglect of architecturally and historically significant properties by promoting their rehabilitation and monitoring their preservation in perpetuity. All properties sold through this program have conservation easements in place to ensure the historic integrity of the property is retained.
Additionally, buyers are required to sign a Rehabilitation Agreement and all work done to the property must abide by the Secretary of the Interior's Standards for Rehabilitation. Copies of these documents will be provided by The Georgia Trust for review.
Contact Info
Ben Sutton, Historic Properties Coordinator
t: 404-885-7819
contact via email