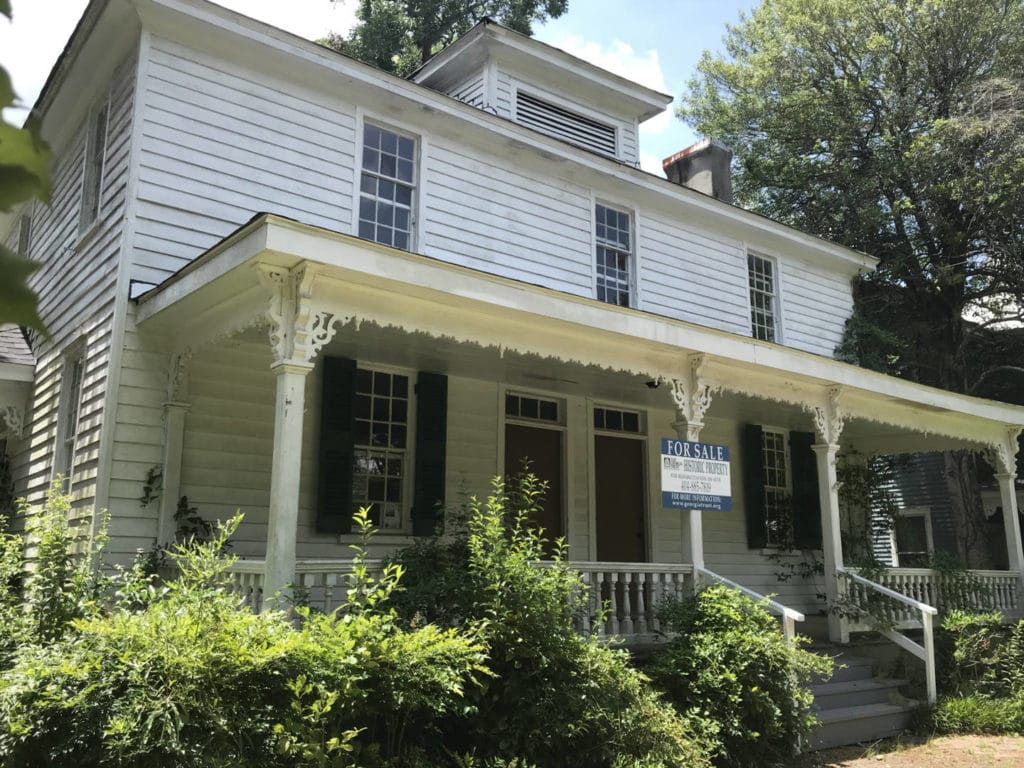 Washington - Wilkes County
204 Water St., Washington, GA 30673
$89,000
Cherry Cottage is one of the oldest existing buildings in Wilkes County. Its lot was bought by Constantine Church from the town commissioners in 1784. Though the exact date of construction is unknown, several sources list the house's construction as no later than 1819. The building was later named Cherry Cottage in the mid 19th-century by Miss E. M. and Miss M. L. Barnett in reference to the cherry trees planted in its yard. Later, the home was donated for use as the headquarters of the Washington-Wilkes Garden Clubs.
The building is a two-story wood sided home containing 3,408 square feet. There are four bedrooms, two baths, a very large living room, dining room, and library. The original detached kitchen has been connected to the primary structure, but it is a blank slate for a new kitchen design. The original well and smoke house remain on the property, as well. A new roof was installed in 2018.
The parcel is just over an acre right in the heart of historic Washington, Georgia and includes a lovely yard and many mature trees. The lot cannot be subdivided.
The house is listed on the National Register of Historic Places and may be eligible for several financial incentives, including an 8 1/2 year tax abatement and tax credits for substantial rehabilitation.
A buyer of a Revolving Fund property must sign a Reserved Conservation Easement and Preservation Agreement. The easement, which ensures the historic integrity of the property is retained, is attached to the deed in perpetuity and is monitored by The Georgia Trust. The preservation agreement specifies that all work done to the property must follow the Secretary of the Interior's Standards for Rehabilitation, and provides a rehabilitation schedule that indicates all work will be completed in a reasonable amount of time.
About The Georgia Trust Revolving Fund Program
The Georgia Trust is a non-profit statewide preservation organization, part of a network of local, state and national organizations dedicated to the preservation of significant historic resources. The Revolving Fund Program was established to provide effective alternatives to demolition or neglect of architecturally and historically significant properties by promoting their rehabilitation and monitoring their preservation in perpetuity.
Contact Info
Dennis Lovello, Historic Properties Coordinator
t: 404-885-7819
contact via email