AJ Gillen Department Store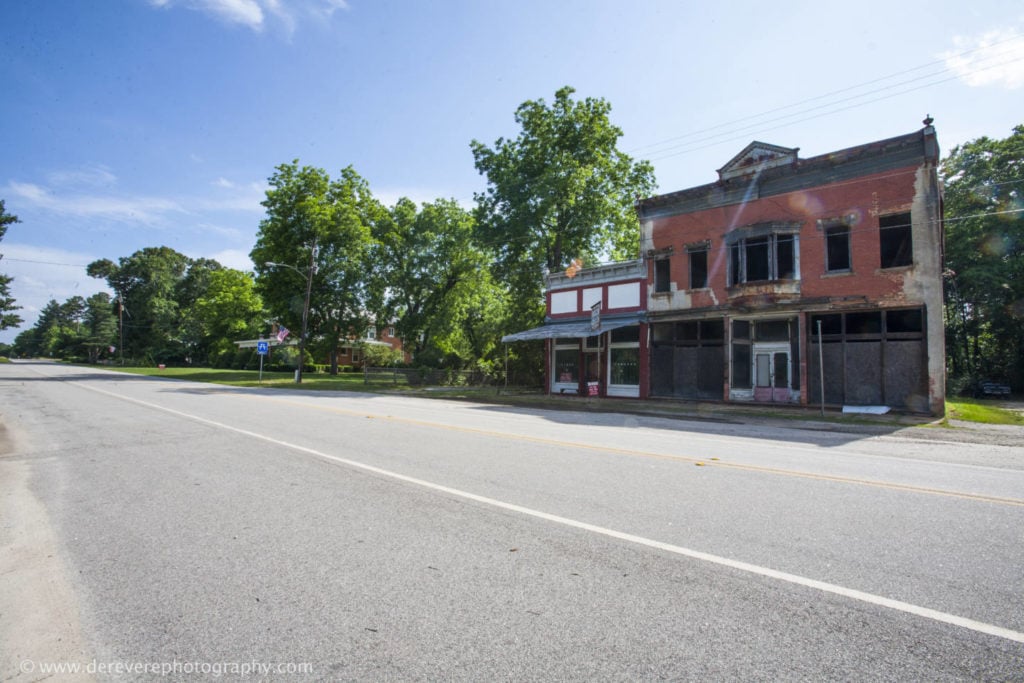 Maxeys - Oglethorpe County
261 North Main Street, Maxeys, GA 30671
$65,000
Encompassing 9,600 square feet on 0.9 acres, the AJ Gillen Department Store was once an upscale retail store in the prosperous cotton town of Maxeys. At one point it boasted the only elevator in Oglethorpe County. The two-story brick building still features an elegant central stair made of cast iron, highlighted by a large overhead skylight. While in operation, the second floor featured the ladies' and home goods departments while the downstairs had men's clothing, shoes, furniture, and even groceries. The second floor had several large windows to let in natural light, while the first floor featured unique half circle windows that once featured multi-colored glass. The store front features cast iron columns, window pediments, and cornice details, as well as a second story bay window. After the onset of the boll weevil and the collapse of the cotton economy, the department store closed in 1929. The building has also been used for storage and for small-scale manufacturing of wood stoves. It is currently unoccupied.
The AJ Gillen Department Store requires significant investment and rehabilitation after many years of deferred maintenance. Some rehabilitation and stabilization work has been done to the structure, including some new framing and temporary bracing. Most of the windows are missing or removed. The cast iron stair is sound, but structural evaluation of the entire building is recommended. The building may be eligible for state and federal Rehabilitation Tax Credits.
*Please note, the adjacent single story building is not part of this sale.*
About Maxeys
Located in Oglethorpe County, Maxeys is a small town of approximately 200 residents. It is 30 – 35 minutes southeast of Athens. During its boom, the town supported two banks, a hotel, several churches, mills, manufacturing works, four doctors, a dentist, and a pharmacy. The town sits along the route of the proposed Firefly Trail, and has received grant funding for local construction of its portion of the trail.   
About The Georgia Trust Revolving Fund Program
The Georgia Trust is a nonprofit statewide preservation organization. The Revolving Fund Program was established to provide effective alternatives to demolition or neglect of architecturally and historically significant properties by promoting their rehabilitation and monitoring their preservation in perpetuity. All properties sold through this program have conservation easements in place to ensure the historic integrity of the property is retained.
Additionally, buyers are required to sign a Rehabilitation Agreement and all work done to the property must abide by the Secretary of the Interior's Standards for Rehabilitation. Copies of these documents will be provided by The Georgia Trust for review.
Contact Info
Dennis Lovello, Historic Properties Coordinator
t: 404-885-7819
contact via email